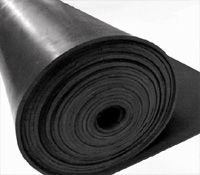 With countless types of rubber sheets available in the market, it is quite difficult to choose which rubber sheets are perfect for your particular application. Zenith rubber sheets are the most popular rubber sheets that are widely used for different purposes flexibly and are made of different materials. These sheets have gained immense popularity in various industries.
Some of the most uses of rubber sheets are in roofing and flooring applications. They provide excellent resistance to substances like petroleum, oil, oxidizing elements, and ultraviolet lights. Furthermore, they have the ability to maintain their flexibility even in extreme temperatures. The elasticity of rubber sheets makes them suitable for varied kinds of
shock absorbers and for specific machinery mountings developed to minimize vibration.
Rubber sheets also find their applications in agricultural machines, industrial buildings, OEM parts, commercial and residential applications including dance studios, storerooms, under shower pans, garages, dryer pans, weather stripping and many other constructions. They are used in different fields like medicine, footwear, railways, engineering, defence, automotive, marine, aeronautics, etc. For instance, rubber sheets provided available with Zenith rubber sheet exporters are widely utilized as a lining for railroad tank cars and storage tanks and for making floor mats, bearing pads, gaskets, horse stall mats, orthopaedic footwear and sandblasting or other types of curtains having the capacity of resisting extreme work conditions. The ability of rubber sheets to incorporate themselves easily with other products and their affordability make them the most favoured product in the industrial sectors.
Nowadays, rubber sheets are made available in the market in varied specifications and designs. This distinction is made in order to make them appropriate for specific applications. Having a closer look at the different types of rubber sheets will give you a better idea to choose the right one.
1. Natural Rubber Sheets:
These rubber sheets have excellent elasticity, dynamic nature, rebound and mechanical properties. Natural rubber sheets are widely used as general sealing materials. As they are
used in any environment without particular requirements, natural rubber sheets are extensively available in the market.
2. Nitrile Rubber Sheets:
These sheets are specifically created to resist oil and solvent products and thus they are extensively used in developing electrical transformers, in the food industry, for sealing
purposes, etc. Additionally, they are usually used between joints and flanges exposed to air pressure and fluid.
3. Silicone Rubber Sheets:
They are typically used in the pharmaceutical industry as they have the ability to withstand high temperatures and have low permeability. Also, these sheets have the capacity to resist chemicals, weather ageing, and ozone.
4. Fabric Reinforced Rubber Sheets:
This type of sheet is made up of synthetic or natural rubber. In these rubber sheets, one or more layers of fabric are reinforced to provide strength against high pressure. Due to this reason, fabric reinforced rubber sheets have extremely used in high-pressure areas.
5. EPDM (Ethylene Propylene Diene Monomer) Rubber Sheets:
These rubber sheets are resistant to alkalis, acids and ketones and thus are used for high zone environmental and outdoor applications.
6. Neoprene Rubber Sheets:
These products provide excellent resistance to various petroleum products, oil, alkalis, and acids. They are widely used in various industrial applications as padding/lining in external metal cases to protect the contents, corrosion-resistant coatings, noise isolation in various power transformer installations and many other electrical applications.