Self Extinguishing Flexible Boron Sheet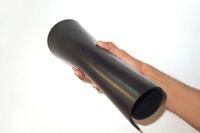 | | |
| --- | --- |
| Business Type | Manufacturer, Exporter, Supplier, Retailer, Wholesaler |
| Size Available | 50 cm X 50 cm, 50 cm X 200 cm, 100 cm X 200 cm, 50 cm X 100 cm, 100 cm X 100 cm, 200 cm X 200 cm |
| Thickness Available | 3 mm to 25 mm |
Flexible boron sheets are also available in self-extinguishing property. It extinguishes by itself in absence of flame. These sheets are heat resistant, ozone resistant, lightweight synthetic polymer based containing varying concentration of Boron. Boron has a very high macroscopic cross-section for thermal neutrons. Therefore the material has an extremely good attenuation factor for thermal neutrons. Hence, it provides an excellent shield against thermal neutrons. The above sheets are available for different boron concentrations in range of 5% to 52%. The attenuation for 1.8A neutrons for 3.3mm thick sheet varies from 3 to 2800 depending on boron content.
Features :
Excellent neutron shielding material with self-extinguishing property
Can be cut & shaped using an ordinary knife and scissor & can be bent into radius of 0.5" (12.7mm)
Light weight & stable in vacuum
Used over wide temperature ranges
Can be easily handled and installed by non-specialized personnel
Can be readily applied to concrete or other wall materials using standard mounting technique
Can be molded & extruded like tubing, bushing, gasket, any cross section profiles and parts as per your drawings & requirements
Applications :
Neutron Instrumentation
Nuclear Power Plant,
Nuclear Spectroscopy
Beam Lines
Nuclear Therapy
Transport Storages & Packing of radioactive materials
Looking for "
Self Extinguishing Flexible Boron Sheet

" ?